Vertu Motors Acquires Historic Family-Run Motorcycle Business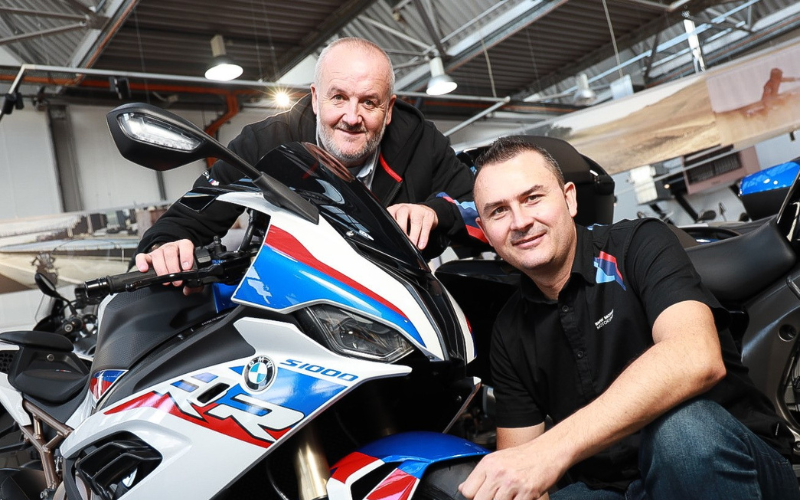 Vertu Motors plc has acquired two BMW Motorrad dealerships from Allan Jefferies, a company which has origins dating back more than 120 years, in a multi-million pound deal.
The dealerships in Shipley, near Bradford, and Rotherham, will sit within the Group's award-winning Vertu Motorcycles brand. The acquisition takes the brand to being the largest BMW Motorrad franchise dealer group in the UK.
The 50-plus colleagues will transfer with the business and the aim is to provide complete continuity of customer care and standards of service.
Allan Jefferies has been trading and family-run, spanning four generations, since 1901. Picture framer Joseph Jefferies, who is hailed as a pioneer motorist, founded the business in Shipley's old steam tram shed, near the Ross Hotel in 1901. It moved to premises in the town's Saltaire Road in 1917, where, named Allan Jefferies after his son, it was to remain for more than 80 years.
The Jefferies family is well-known in the motorcycle world with Allan's son Tony and his brother Nick winning the Isle of Man TT three times.
Tony's son David also won this world-famous race and was a course record holder.
Tony ran the business until 2001 when his daughter Louise took over. Allan Jefferies has represented the BMW brand since 1971 and began solely representing it in the 1990s.
Robert Forrester, Chief Executive of Vertu Motors plc, said: "Allan Jefferies always has been based on family values and personal service; this is an ethos that will continue under our Group's umbrella.
"Louise has overseen a business that is in great shape and that, as a result, will provide a firm foundation for Vertu Motorcycles to grow and develop it further."
Louise Jefferies said: "For more than 50 years Allan Jefferies has been associated with selling and servicing BMW motorcycles. In that time, we have always stood for trustworthy service and a friendly welcome.
"No-one understood this better than my dad, Tony Jefferies, who first took on the BMW Motorrad franchise in 1971.
"Since he died in 2021, I have been considering how we develop the business and usher in the next stage of its history. We wanted to find someone who shares our values and has the scale to take us forward.
"It was an emotional decision to make, but I'm pleased we have concluded an agreement with Vertu Motors plc to take on our two businesses.
"Our customers will continue to see familiar faces, the dealerships will stay at the same locations and will remain BMW Motorrad businesses.
"Vertu Motorcycles, which is an experienced motorcycle retailer, will keep the standards of service and friendliness customers are used to and I am completely happy to put the business in its hands."
Paulo Alves, Head of BMW Motorrad UK and Ireland, commented: "We are delighted to support the acquisition of the excellent Allan Jefferies business in Yorkshire by Vertu. The Jefferies family have built a fantastic operation and we are confident that the business will be in good hands with Vertu. As a leading brand, our customers take priority and we share this philosophy with Vertu. We welcome them as our largest partner in the UK."
The acquisition takes the number of Vertu Motorcycles sales outlets to six. It already operates Vertu BMW Motorrad Sunderland and Vertu Honda Motorcycles Nottingham, Grantham and Stockton.
Earlier this year, Vertu Motorcycles won the prestigious Motorcycle News 'Best Multi-Franchise Dealer of the Year' title.