What Is It Like To Ride A Honda Goldwing?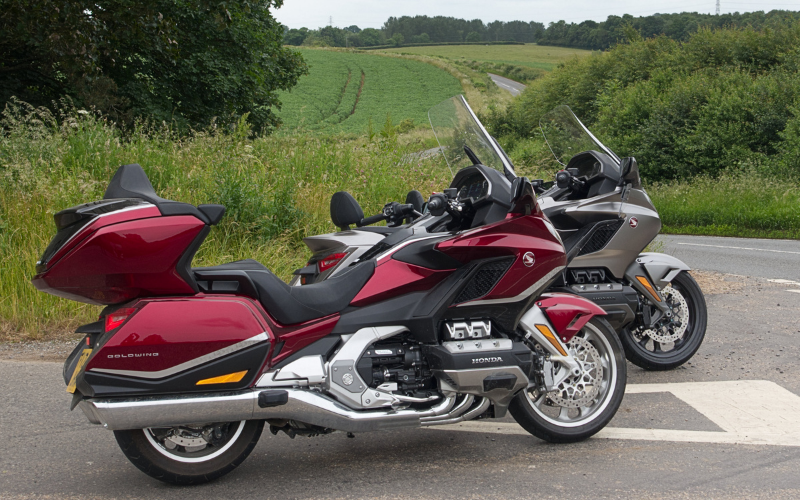 Is a Honda Goldwing hard to ride?
The Honda Goldwing. One of the few bike models your non-biking friends and loved ones can picture.
"Aren't they huge?"
"Aren't they hard to ride?"
"Aren't they really heavy?"
"Aren't they really expensive?"
"What if you drop it?"
Not what my friends or loved ones were asking, this was my internal voice trying to talk me out of trying a Goldwing. With over twice the engine capacity and twice the weight of any bike I've ever owned, I was mildly apprehensive.
But of course I had to try a Goldwing, it's the royalty of bikes. So I stepped out of my comfort zone into, what turned out to be, the extremely comfortable Goldwing zone.
Now I have tried one, you must try one too. It is a magnificent experience.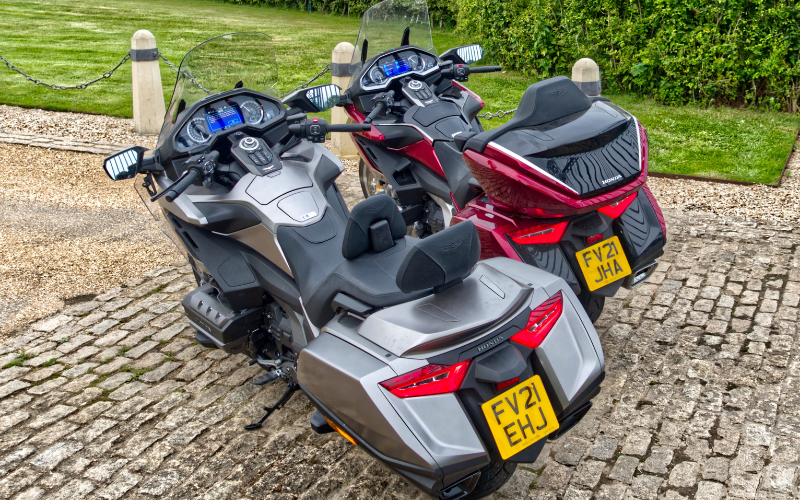 On an overcast Midsummer's Eve two Goldwings waited outside Vertu Honda Grantham. A manual GL1800 Bagger with a surprisingly dynamic stance and a Candy Ardent (that is, metallic red) flagship GL1800 Tour with the pillion seat and 121 litres of soft-opening integrated luggage (opened by keyless fob). To those in the know the red paint signals the seven (yes, seven) speed DCT version. As flagships go, it's a superyacht.
To say a Goldwing has presence is an understatement.
Once astride, or perhaps onboard, you are faced with a reassuringly mesmerising amount of buttons, switches, toggles, levers and speakers. Of course it has speakers. There's a speedo that goes up to 130mph and a big screen and a rev counter. And two sub-screens. And lights and gauges and everything. You won't get bored on a long ride.
I checked the user manual, it wasn't quite as thick as I feared. Then I noticed a second manual for the infotainment system. It was quite thick. There's a third for the airbag. Yes, of course it has an airbag.
We decided to skip the fiddling with all the settings and ride. Jim was leading and immediately took off. Like James May about to follow The Stig I was at peak nerves.
But immediately something magical happened. By the second turn out of the forecourt I was grinning. As soon as my feet were on the pegs, the bike politely ushered me in, made me comfortable and we were off. This is what the Goldwing is about. All my worries evaporated after a second and a half. The thing is a magic carpet.
The Goldwing is supernaturally stable. At close to 400kg fully loaded, with the 1.8litre engine underneath your feet, it holds its weight well and is lightly balanced. Keeping a walking pace is effortless.
As I realised I needed to at least keep eye contact with Jim, a twist of the throttle and the Goldwing effortlessly cranked its six pistons to release a tidal wave of torque. Without a breath of complaint we were at cruising speed and beyond. Through the bends it was deceptively nimble, it goes where you look without complaint. It is uniquely entertaining.
Under acceleration the engine note is great; distinctive and hinting at the muscle on tap. Torque is endless and you never doubt that the bike will do exactly what you want it to. Leaning into a fast corner that was tighter than I appreciated, the right peg politely informed me that we were leaning over a reasonable amount. I'd not noticed, and the bike was completely unphased. Unlike me.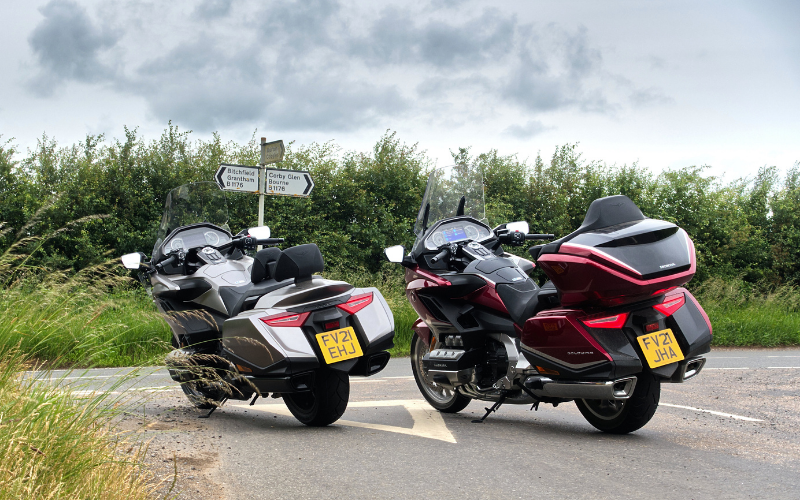 The brakes do a great job, I learned to be light on the front or the nose dived as they did just what you want them to do. The front suspension is quite a thing, looking down the steering column you can see the unique double wishbone arrangement working away, something else to keep you interested on long journeys.
Cruising through leafy lanes with the visor up and breathing in the clean air, I had one of those "this is the life" moments. I adjusted the electric screen because I could, making the ride quieter and less tiring. But nothing about this bike is tiring. In town you could be on a hover bike. At the lights the engine shuts down. It's not conked out or stalled, it has stop-start technology. Of course it does.
When we pulled in to Grimsthorpe Castle gates for the obligatory beauty shot, I tried to paddle the Goldwing back into position, which was tiring. But of course, I'd forgotten the walking-speed reverse gear to help. Those Honda chaps really have thought of everything. Photos taken, we headed home and I was getting worryingly used to riding a Goldwing but like Cinderella, I knew this magnificent experience had to end.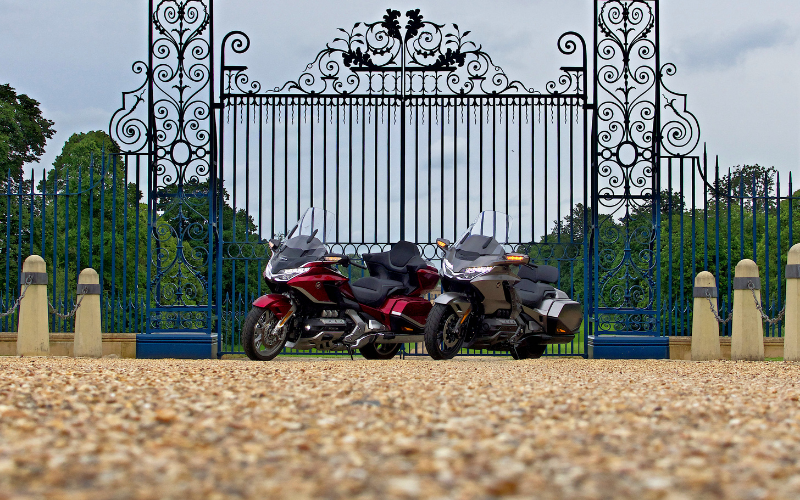 All this magnificence does come at a cost, that cost is between £23,000 and £32,000. As Jim said: "you buy a car for £32,000 and no one notices, you buy a bike for £32,000 and you are someone." And that someone is someone who knows. Who knows that life sometimes just doesn't get better than this.
Try one and you'll understand. Just try one.
If you are tempted, Vertu Honda Bikes Grantham are proud to be a specialist Gold Wing Dealer, so can see the models and talk to our Gold Wing experts.
You can find out more and download a brochure here.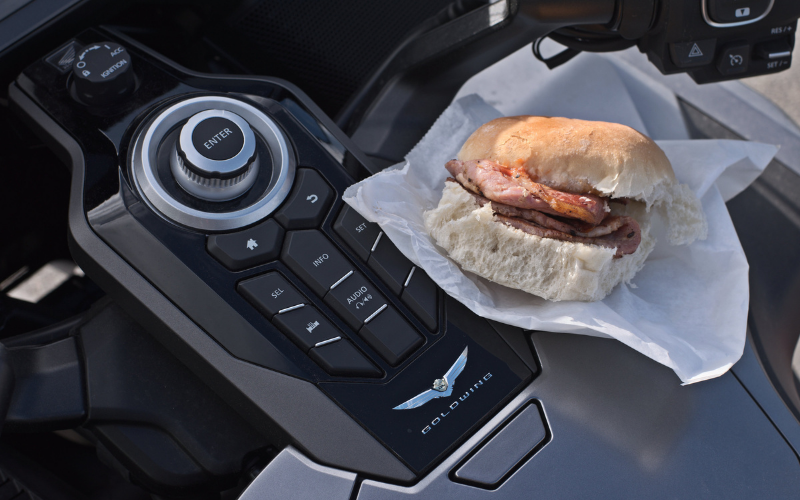 (The only extra a Goldwing needs, with red sauce, from Floyd's Cafe.)