James Bond's Favourite All-Time Bike Brand Revealed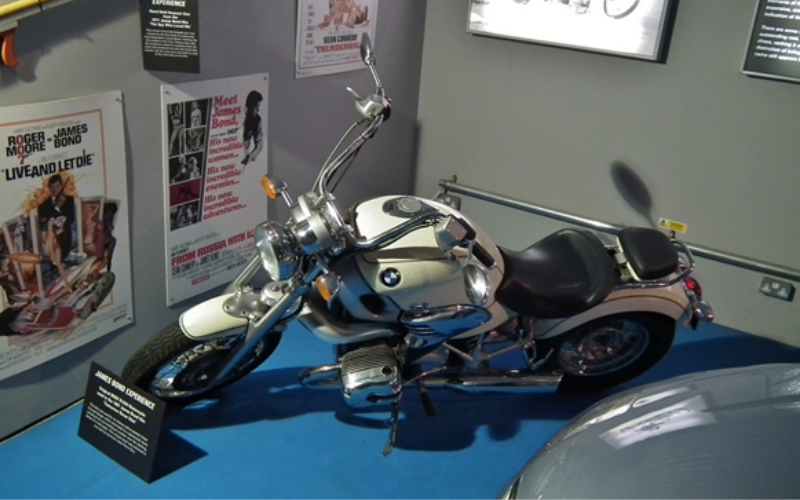 Thursday 30th September is going to be a big day for motorbike fans.
Why? Well, the new Triumph Scrambler 1200 and Tiger 900 are going to feature in Bond's much-lauded – and much delayed – upcoming film, No Time To Die. Not to mention the roster of special edition Bond bikes to celebrate the film's release (any Fleming fans looking for a slice of memorabilia, be warned – you will need your chequebook!).
But this isn't the first time big bike brands have impressed in a Bond film. That's right – where cars may have been considered the star of the show, motorcycles have long been turning heads throughout the franchise's history. From Craig to Connery, Japan to Germany, motorcycles have never been far from a swift Bond getaway. But which bike brand does Bond love the most?
To find out, we searched the Internet Movie Car Database and counted every motorcycle make and model that has appeared in a 007 flick to date.
Continue reading for James Bond's all-time favourite bike brand.
Which is the most popular Bond biker brand?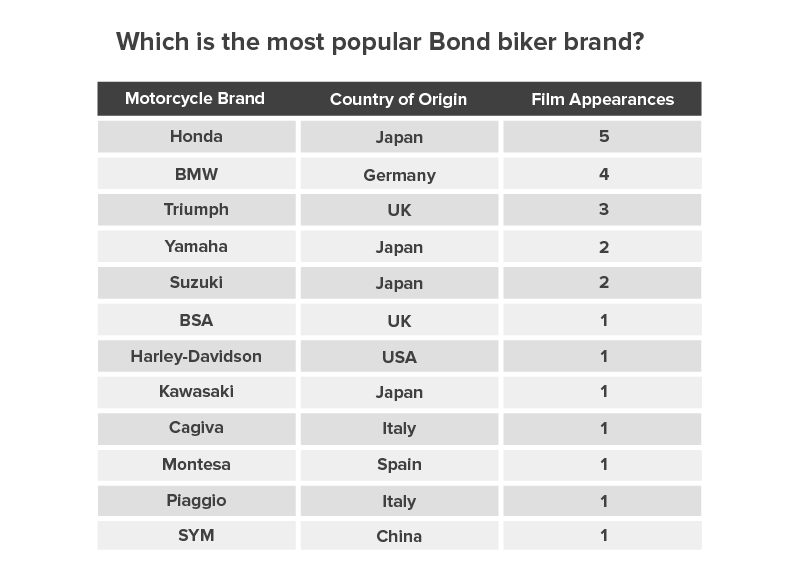 According to our data, Honda is the most popular Bond bike brand, with five different motorcycle models making appearances on the road with 007. This is closely followed by BMW and Triumph, which have four and three appearances, respectively.
One of the most notable findings, however, is the diversity of James Bond's taste in bikes. There are 12 different motorcycle brands in total that have played a part in 007's cinematic history, ranging from huge Harley-Davidsons to nippy little Suzukis. A bike for every type of high-octane action set piece.
Bond does still have his favourites though – as his enduring affection for Aston Martins has shown. Yet, unlike his decidedly British car crush, 007's penchant for motorbikes leans more to the Far East. In fact, a whopping 45.45% of bikes in Bond films were manufactured by Japanese companies. For comparison, only 18.18% of Bond bikes were made by British companies.
When did Bond begin his love affair with motorcycles?

It was only in James Bond's fourth outing in 1965 that we were treated to our first helping of motorbike fun, with a missile launcher-equipped BSA Lightning A65 speeding into our hearts.
However, we would have to wait six more years to catch our next glimpse of Bond bike action in Diamonds Are Forever. Even then, it would be another two decades until 007 truly fell head over handlebars for motorcycles in the 1990s.
In just three films (GoldenEye, Tomorrow Never Dies and The World is Not Enough), there were a total of eight bike models that featured in Pierce Brosnan's missions to save the world. Their emphatic inclusion is no doubt influenced by other iconic movie motorcycles of the 90s, most notably Terminator 2's Harley Davidson Fat Boy bike.
You can also chart Bond's growing fondness for bikes alongside his evolution as a more action-orientated protagonist. The first 12 James Bond movies, for example, only featured six bike appearances – and then the action movie boom of the 80s exploded onto the scene. From the 90s onwards, bike appearances in James Bond flicks almost tripled (17 appearances in 13 films) as 007 was shaped into a bona fide action star.
Who is the most bike-obsessed Bond?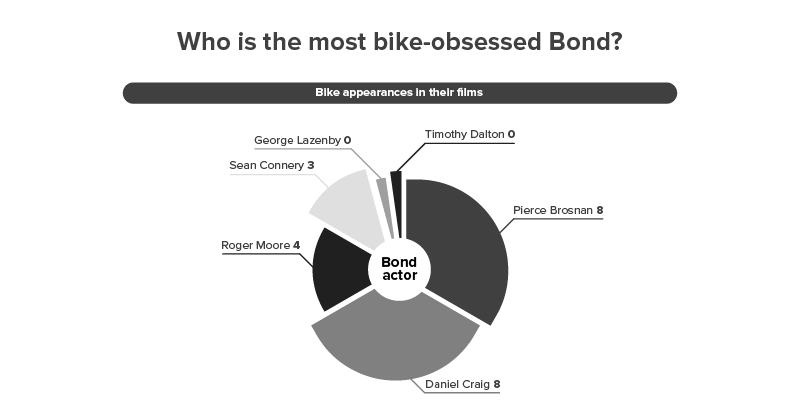 It's a close race between Brosnan and Craig, but it's Pierce Brosnan who comes out on top as the most bike-obsessed Bond in history. That's because, while both actors have eight motorcycle appearances in their films, Brosnan has the highest bike to film ratio with an average of two bikes per movie.
The Irish actor's newly earned title is mainly thanks to his second credit as James Bond in 1997's Tomorrow Never Dies, which is the most bike-heavy Bond film in the series. There are six different motorcycle models in that one film alone, including a shiny BMW R 1200 racing through the streets of Saigon.
Our current Bond, Daniel Craig, still has a respectable experience with bikes though. Not only do both Quantum of Solace (2008) and Skyfall (2012) feature memorable bike stunts with a Montesa Cota 4RT and a Honda CRF 250R, respectively, but Craig looks set to sit in the saddle once again in No Time To Die.
The rest of the James Bond actors, however, can only be considered casual hobbyists at best. Roger Moore (4 bike appearances) and Sean Connery (3) both dabbled with motorcycles, but, considering their extended runs in the role, it's to be expected that the filmmakers experimented with new and exciting vehicle stunts to keep things fresh.
It's official: James Bond's all-time favourite bike brands are Honda and BMW – and you can get in on the action, too. Here at Vertu Motorcycles, we sell a diverse range of new Honda and BMW bikes, as well as a selection of used bikes from many different manufacturers. Browse our collection today to bring a bit of Bond to the road.


Image credits

Featured image: https://www.flickr.com/photos/[email protected]/5963546810