The Reel Deal: How much would box-office motorbikes cost in today's market?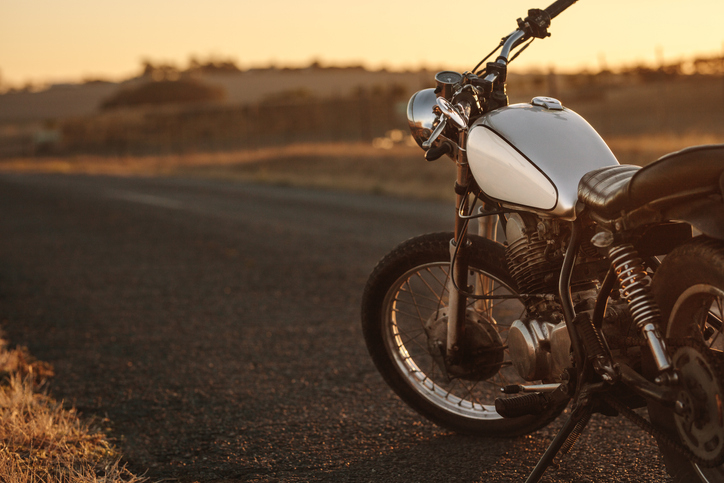 While road trip plans may be temporarily parked, the UK's love for motors continues to go full throttle.
In fact, one seldom spoken area of the motor industry – online auction halls – enjoyed a very lucrative 2020. Gone were the flashy physical auctions; in their place, an adrenaline-pumping area of the internet where must-have investment pieces were just a click away.
And this got us thinking... how much would the best-known bikes in film fare at auction today? If the Terminator 2 bike could fetch $480k (£344,825) and Easy Rider could claim a cool $1.35m (£969,820), then how much would other box-office bikes cost in today's market?
To find out, we calculated the average annual value increase of the Terminator 2 and Easy Rider motorcycles and applied this to some of Hollywood's most famous motorcycles.
See how much your favourite movie motorcycle would go for, below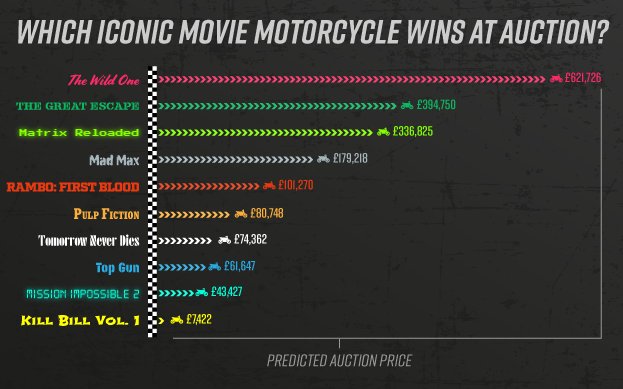 Of course, not everyone has the savings – or the patience – to wait for their dream movie motorcycle to go on the market.
If that sounds like you, you might be interested to learn which basic edition (i.e. motorcycles that are not the unique prop from the movie, but are identical models) would cost you the least in today's market.
For instance, you could own the same Kawasaki model from Top Gun for a steal at just £2.5k! A quality bike with immense heritage, and a strong mark-up against its Hollywood double to boot, there is a generous amount of value amassed from this red carpet-worthy motorcycle.
Take a look at the full model mark-up list, below: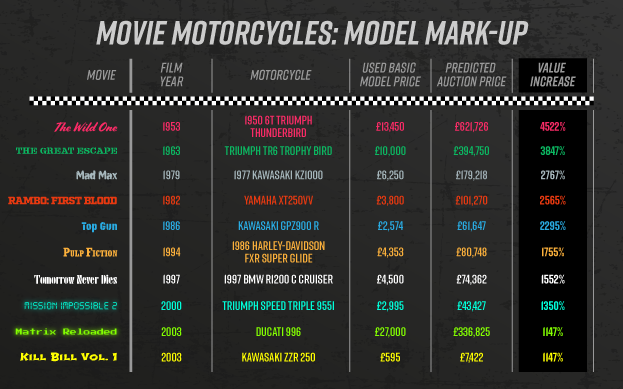 How about if you really did get your hands on these iconic motorcycles?
To help you cash in quickly, we've pulled together five-star seller descriptions, below, so you can promote your biker prize in style.
While our seller descriptions are just for fun, we're sure they'd catch the eye of anyone looking for their next dream investment!
The Wild One – BUY TODAY FOR JUST £621,726
Impounded by the police in connection with motorcycle gang crimes, this 6T Triumph Thunderbird needs a quiet home away from racing, fighting and thieving. Extremely rare model, snap up while you've got the chance!
The Great Escape – BUY TODAY FOR JUST £394,750
A relic of the Second World War, this Triumph TR6 Trophy Bird flies around tight country roads, emerald hills and over barbed-wire barricades with ease. VERY RARE!
Matrix Reloaded – BUY TODAY FOR JUST £336,825
Italian excellence encapsulated in one dark green motorcycle. This Ducati 996 will have you effortlessly weaving through traffic, evading deadly computer programmes, in no time. Leather trench coat and sunglasses not included.
Mad Max – BUY TODAY FOR JUST £179,218
Imported from Australia, this 1977 Kawasaki KZ1000 has clocked up hundreds of miles gliding over the flats of the Outback. Painstakingly restored piece by piece after a head on collision with a truck.
Rambo: First Blood – BUY TODAY FOR JUST £101,270
Previously owned by a Medal of Honor holder, this Yamaha XT250 rides like a dream, both on and off road. Ideal for evading police cars or popping down to the shops.
Pulp Fiction – BUY TODAY FOR JUST £80,748
Affectionately named Grace by a previous owner, this chopper is ready to go to a loving home. Just one ride on this beast of a Harley-Davidson will have you wanting to skip town. Decorative tassels included.
Tomorrow Never Dies – BUY TODAY FOR JUST £74,362
Narrow streets, crowded pavements, precarious platforms or towering rooftops, the BMW R1200 C Cruiser can handle any terrain with ease. Acquired from a seller in Vietnam after a careless Brit left it in a heap next to a burning helicopter.
Top Gun – BUY TODAY FOR JUST £61,647
Rescued from an old Navy base in San Diego, USA, this Kawasaki GPZ900 R feels the need for speed. Great for racing fighter jets and transporting romantic partners.
Mission Impossible II – BUY TODAY FOR JUST £43,427
Whether for quiet cross-country rides, slow mo jumps or high speed gun fights, the Triumph Speed Triple 955i is your perfect all-purpose motorcycle. Lovingly restored from an explosion-related accident.
Kill Bill: Volume I – BUY TODAY FOR JUST £7,422
The most compact of Kawasaki's sports bikes, this bright yellow ZZR 250 zips through busy city streets and tight country roads. Imported from Okinawa, Japan. Matching yellow jump suit sold separately.
While these famous movie motorcycles are certainly awe-inspiring, their eye-watering price tags are enough to induce cold sweats. But that doesn't mean you can't get in on the action with Vertu Motorcycles.
Tom Cruise fans, for instance, will be especially pleased to hear that we stock similar models to the bikes seen in Top Gun and Mission Impossible II. Head over to the Vertu Motorcycles website to browse our full collection of quality motorbikes.